On Our Shelves: materials for a 9-month-old and a 4-year-old
I recently posted a picture of 9-month-old Nadia's shelves on my Facebook page, and several people wrote to me asking for links to her toys and materials.  I hope this helps you when you set up your baby's shelves!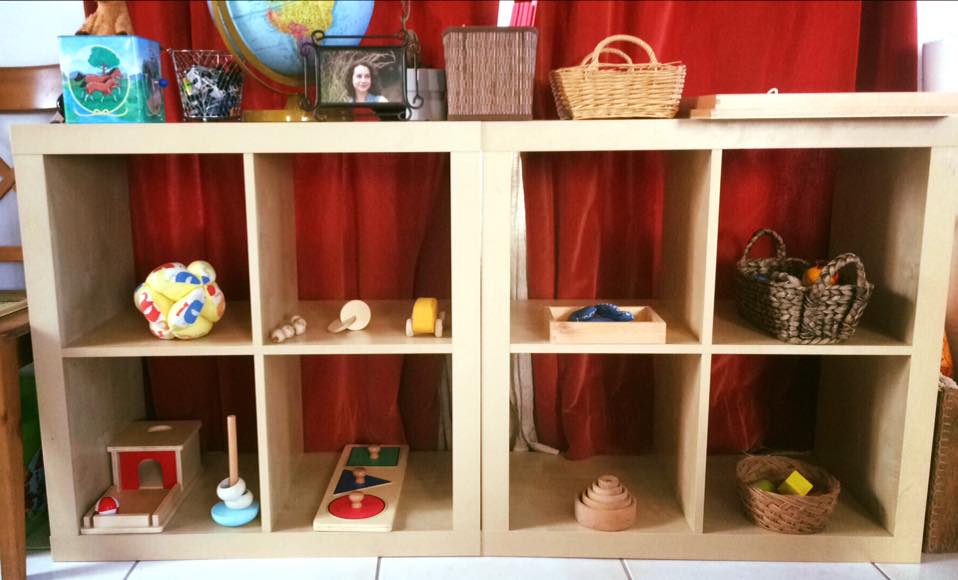 Top row of cubbies (left to right):
Takane ball:
I made the ball for Zachary when he was a baby, and both kids have gotten a lot of enjoyment out of it.  I used
this tutorial
from Beautiful Sun Montessori, but there are many other tutorials out there if you search for "takane ball instructions".  I have very basic sewing skills, so if you have a sewing machine (and time), you can make one, too!
Wooden grasping toys:
 Ours were gifts from my lovely A-to-I trained friends, and Nadia has loved them since she was a tiny baby (I rotate them in and out).  You can
find them on Etsy.
Wooden car:
We have a set of wooden cars made by the German toy company Grimm.
 They are sturdy and lots of fun for toddlers to crash!  For Nadia I rotate one at a time, but when Zachary was a toddler he enjoyed racing them with mommy and daddy.  You can find them
here
.
Fabric shapes:
 Our lovely babysitter hand-stitched different shapes and stuffed them with cotton.  She used a solid fabric on one side and a patterned fabric on the other.  It's an easy DIY project that could also be done with different textures of fabric (such as corduroy, denim, etc.)
Basket o' rattles:
These are different noise makers we've picked up along the way... A maraca from Mexico, a wicker rattle with pieces of tin inside, a doll with a rattle inside, and a couple of Hape rattles, including
this funny one (link).
Bottom row of cubbies (left to right):
Object permanence box:
She LOVED this from the moment I took it out of the box. The quality is remarkably good for the price, and we just switched out the
plastic ball it came with for a sturdier wooden ball because it has a more pleasing sound when it hits the bottom of the box.  
Here's the link. Peg and two rings:
The peg comes from
this Melissa & Doug toy (link)
 that we got as a gift, which she's still too young to use, and the rings are napkin rings from the local thrift store.  I have different kinds of rings (metal, wood, ceramic) that I switch out for variety.
Geometric shape puzzle: 
The shapes are part of a Melissa & Doug three-puzzle set that includes six animals and three shapes.  I think the set I have is discontinued but
this is a great alternative (link).Wooden nesting/stacking bowls:
They're also from the Grimm compa
ny, and they are one of her favorite toys.  We had a three-year old friend come over to play, and she had a great time stacking them, so it's a toy with plenty of growth potential!  The wood is beautiful and very high quality.  You can
find them here (link).Geometric solids:
These belong to the
Hape Shape Sorter (link).
 She's not old enough to understand sorting yet, but she likes how the shapes rattle (they have little balls inside).  Once she's old enough to sort, she'll already be familiar with the shapes!
If you're curious about some of the materials on the top shelf that my 4-year old son uses, they are as follows:
World globe:
I really like
this one from Reprologe (link)
because it has the tilting and
swiveling base that allows you to see the South Pole without having to flip the base over.  It has raised topography and up-to-date political geography.  The reviews are mixed on Amazon because sometimes the meridians don't line up, but ours is defect-free and it's been a HUGE hit with Zachary.
Sandpaper letters:
These
lower-case cursive letters (link)
are a great investment, since the children use them from the time they're learning sounds (around 2.5/3 years of age) until they're perfecting their handwriting (lower elementary).
Basket of objects:
These are miniature objects I've collected though the years, including animals, furniture and cooking utensils.  These are also a great investment, since you use them for language development when they're toddlers, then Sound Games at 2.5 years of age, and then as inspiration for writing words with the Moveable Alphabet.
Moveable Alphabet:
I am in love with
this medium cursive alphabet (link)
!  The letters
are made out of wood, they are sturdy and attractive, and they have a nicer weight than the more expensive plastic ones from Nienhuis that most AMI classrooms have.  Plus, each compartment has its corresponding letter printed on it, for easy clean-up (another thing that more expensive plastic model don't have).  For a homeschooling family, I think this is the ideal Moveable Alphabet.
Feel free to drop me a note if you have any questions about any of these materials, including how I present them to the children!
Disclaimer: Some of these links are affiliate links, and The Full Montessori will get a few pennies from your purchase through Amazon.  Thank you for your support!